Back in 1991 there was a game known as SkiFree and it was funny until a scary monster shows up in the game. The same goes for Downhill OMG! 2 HD game where the big difference is that the game is now in 3D. The old game was about skiing but this one is with a snowboard. Also, there is a zone where those monsters like giant yeti show up.
The gameplay is really fun. You have your snowboard, make some jumps, fly really high, earn money, find different potions and objects. It comes a point in the game where yetis show up, but they are not so scary, especially because they are not so fast enough to catch you. Also, more than one yeti can run to catch you, which is a good thing in adding difficulty to the game. The game lacked any environments, like adding houses, trees, rails or all kind of stuff because there was only snow, but it did give a good feeling when you were running at high speed. The game has red and blue spheres, which should be collected in order to give you some life back (red ones) and also gain a speed boost (blue). Apart from these, there were coins scattered around the whole place and also some objects which are occasionally rare. Potions can also be used or collected in order to make the game more interesting and funny. There are potions which give you health, make you invincible or even make you fall slower.
When you jump, you can rotate and make money. The more you rotate, the more money you will make and they get 25 coins more for each rotation. You also complete some missions which will give you more money. In case you make a lot of money, you can buy yourself a new vehicle, but bear in mind that better vehicles need money plus objects. There is also the skills menu where you can buy skills and become better at jumping, braking or even get more speed. There are five main skills and two skills known as boost and life. The boosts and life skills can be upgraded without limit, meanwhile the other skills get upgraded to some extend. The more skills you buy, the same skill will need more money next time. You can also buy unlocked potions which will greatly help you throughout the journey.
In case you make a bad landing, you will loose life to the point where you die. While dying you can still make some money by breaking bones and falling down, but you just make one coin for each broken bone. There is also a great possibility to loose life when attacked by a yeti. This happens if his hit catches you, so you are safe as long as he doesn't touch you. Bad objects can also make you life worse, like reverting controls while moving, or falling rocks from the sky. In case you want to destroy rocks which are in front of you, either you get the dirty hoe object, or you find how to get the yeti vehicle which is the most powerful vehicle in the game.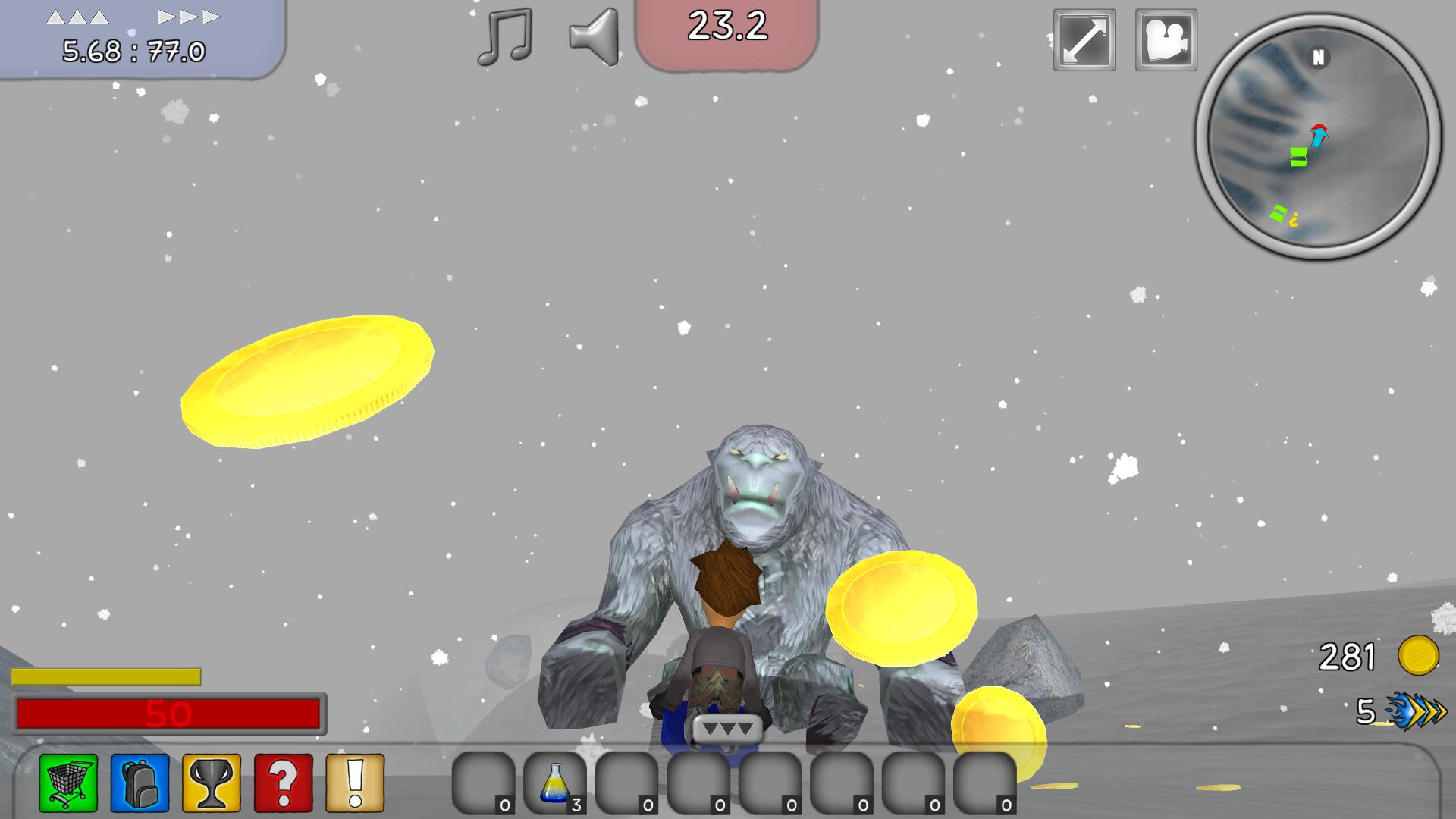 The graphics were not good, nor the models. With so little models, no lightning and other graphical features, the game doesn't give a great feeling if you are searching for a graphical game. What the game does have from a graphical aspect however, are the special effects. The player while rotating leaves a trace on every 180 degrees. Also, the snowman makes the sky lighter, which is something we have barely seen on other games. The snow falls and the lightning from the sky does make an impact on the graphics and players might react to it in a good way. The user interface is not a great deal, but it feels like it is compact with the game graphics. Have so low graphical features does have a good impact when played to slow computers.
Optimization was good enough to make the game playable. You can jump, move left or right, get caught by a yeti, rotate in the air, loose life, add skills for real and all kind of stuff. There were however very weird circumstances like the yeti following you in the air, like he was walking, or the trace when rotating not following the body. The game also had very small bugs when it comes to collecting items. Coins will fly away like crazy without apparent reason and they even disappear without being collected. The same goes for every other object in the game. There also wasn't any tree, rails or stuff which would add so much fun to the game, leading to poor content. The moral of the story is not to loose your life and rotate as much as possible, simply because you cannot make any tricks and you will loose the multiplier in case you die. Potions will greatly help you, especially when you get to a very high speed and have very low health. The yetis are just like they don't exist, because they should touch you in order to damage, but if you are faster than them, everything gets so easy without any apparent challenge. Also, more enemies could have been put in order to entertain the players. To complete the whole game is not easy though, since you will need rare objects and they rarely show up, or you might even miss them.
Idea is so-so. Mainly because it is just an interpretation of the old SkiFree game and partly because the game didn't have many enemies, no story, no tricks in the air, just rotation, no rails or even other stuff which make the game lacking some resources. Adding different themes, not just snow, would make the game even more interesting, but this also wasn't applied. Races, which is a pure snowboard feature, was not applied too and the difficulty wasn't so challenging. The voice was funny though and it attracted some attention. You could also not customize your vehicles, by choosing colors, or adding little upgrades. There were missions though which made the game feel more challenging and the skill points made the player to upgrade them all. On the minimap there is also a question mark which shows the location of a skeleton asking you for items and in case you have them he will give you some additional stuff.
Sound was funny but also hearing the same things over and over again feels so repetitive. Overall the game has a lot of potential and we truly hope that the game does better in case there is a next version. For those who love snowboarding or snow themed games, this one is for you.
---